IMSI Catcher IMSI400

IMSI-catcher (International Mobile Subscriber Identity-catcher) is an eavesdropping device which intercepts mobile phone data (phonecalls, location, etc.).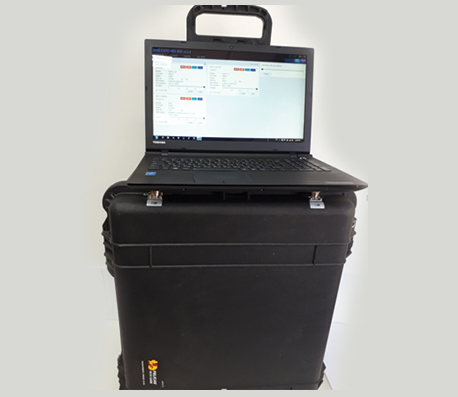 1. IMSI Catcher – The operational threat
Active Cellular devices are used for various nefarious activities including terrorism, criminal activity, Search and rescue operations and much more. Prisons all over the world are faced with the problem of hidden cellular phones used by the inmates illegally.
2. The Solution of IMSI Catcher
2.1 Key operational benefits to the customer:
Phantom's Technologies active cellular system, also known as the IMSI Catcher 400, provides the operators with the capability to extract cellular identities in a designated area of interest.
The IMSI Catcher system provides three main operational advantages:
1. Independency from Cellular service Providers – the operator does not need to connect with the Cellular Providers systems.
2. Covert operations – the system can be deployed in a discrete manner allowing the operating forces the much needed covertness.
3. The system is portable and can be handled in a suitcase.
4. All SW and HW are manufactured by the company
The system's main purpose is to provide a low cost – high affective active cellular system that enables operators to control the cellular communications.
2.2 IMSI Catcher –  Solution description:
The IMSI400 is our imsi catcher monitoring system, designed to detect the IMSIs and the IMEIs present and active in the designated area for both 2G and 3G Phones. This capability enables the device's operators to identify possible threats.
The IMSI 400 was specifically designed to provide maximum capacity flexibility as the BTS number can vary from 1 BTS – 8 BTS (8 BTS is the current maximum design) in a single drawer (several drawers can be supplied) as each BTS is Software Defined Radio BTS in the technology in which it is working. This means that once a technology has been chosen, GSM or UMTS, the BTS in the defined technology is SDR.
2.2.1 Main capabilities:
Extraction of IMSI, IMEI and TMSI in 2G, 3G and 4G
Target selection and automatic alert
Silent call in 2G and 3G and 4G
4000 phone calls capacity
Highly configurable BTS drawers
Backup power – 3 hours
Internal antennas for 2G, 3G, 4G
The system can work simultaneously on all networks
Showing consumption, running time and phones captured
SW – configurable, scalable, adaptable as customer will receive user manual
Scalability – the system can easily add features, technologies, BTS's and more.
Homing device for DF operations
Selective targeting of IMSI/IMEI
DOS of all cellular subscribers
And more…
Download PDF
ANNEX A – TECHNICAL SPECIFICATIONS
| | |
| --- | --- |
| Power Supply | 28VDC |
| Current | 2A Max. |
| Modules Per Unit | Configurable |
| Antenna | External – Omni-Directional or High Gain Directional |
| Power Amplifier Protectors | Isolator. Full VSWR protector Over Heat – Thermal protector Over Current protector |
| Receivers Sensitivity | -92 – -110dBm |
| SNR | 141-143.5 dB /Hz |
| TX PWR | 47dBm with internal PA |
| BW | 10-75 MHz |
| Memory SDRAM | 128 MB/Band |
Frequency Band
RX Bands
GSM 824-894 MHz
GSM 890-915 MHz
DCS 1710-1785 MHz
PCS 1850-1910 MHz
3G 1920-1980 MHz
TX Bands
GSM 865-894 MHz
GSM 935-960 MHz
DCS 1805-1880 MHz
PCS 1930-1990 MHz
3G 2110-2170 MHz
Air Interface Standards
GSM/UMTS
| | |
| --- | --- |
| Dimensions | Pelican 1610 |
| Weight | Approximately 25kg |
| | |
| --- | --- |
| Operating Temp | -10ºC – +55ºC |
| Humidity | 5% – 90% |
*Specifications are subject to change without prior notice