21 Dec

Tactical Jammer RCJ HF-VHF-UHF

The RCJ HF-VHF-UHF high power tactical jammer is designed to block FM communication. The RCJ HF-VHF-UHF uses state-of-the-art technology for maximum performance.

The unit is controlled by Microprocessor for DDS programming using unique modulation technique based on mixed signal for maximum jamming efficiency. Each module of RCJ HF-VHF-UHF transmits a unique noise signal, which creates a "firewall" between the transmitter and its receiver.

The jamming signal is being generated by the DDS, which results a very high sweeping rate along the bands, hence creating high RF density in each part of protected frequency band.

Jamming radius of RCJ HF-VHF-UHF depends on several conditions such as transmitter frequency and output power, distance to receiver and obstacles in between. System modularity allows flexible usage in different applications.

The system uses Broadband Directional Antennas for selective jamming area and can be used with long-wire, Omni-directional antennas for 360° jamming.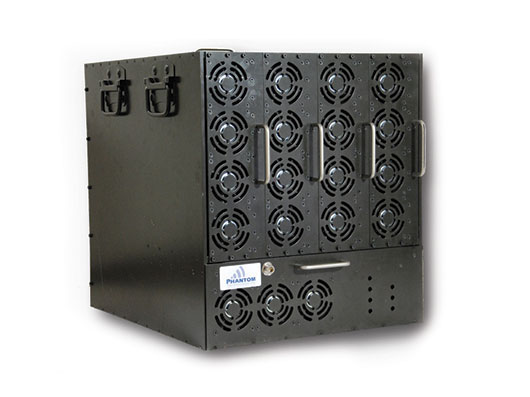 Download PDF
There are 5 modes of jamming operation:
1. Sweep Mode
Jamming the whole frequency band at an ultra-fast
Speed continuous sweeping.
2. Spot Mode
Jamming simultaneously of 36 frequencies from a list
3. Open Communication Window
Allows open communication from 10 pre-programmed options.
Thus frequencies can be changed in factory when customer needs.
4. Barrage Mode
Sweeping between up to 4 bands
5. Memory Jam
Allows jamming of up to 36 channels from jammer memory
Designed to block HF-VHF-UHF communications
Adjustable output power 3 dB Steps, 150W, 300W, 600W, 1,200 W.
Separate switch ON/OFF and switch Operation Modes
Built-In Test Equipment (BITE) for performing and notifications of system performance and parameters
Designed for vehicle installation
Radiation protector to protect operator/s from jamming signals
Output Power
Up to 5,000 Watts
Jamming Range
Depends on field conditions
Internal Modulation
FM Hopping Frequency, Sweep, White Noise, Tone
Signal Source
DDS – Digital Direct Synthesizer
Power Supply
110/220 VAC
Remote Control
ON/OFF
Antenna
Rotate antenna (optional)
Power Amplifier Protectors
Full VSWR protector
Over Heat – Thermal protector
Over Current protector
| | |
| --- | --- |
| Frequency Band | 20-500MHz |
| Air Interface Standards | HF-VHF-UHF |
| | |
| --- | --- |
| Dimensions | 500 x 430 x 676 mm – 19" x 14U (3 Drawer) |
| Weight | Approx. 120Kg |
| | |
| --- | --- |
| Operating Temp | -10ºC – +65ºC |
| Humidity | 5% – 80% |
*Specifications are subject to change without prior notice